Homeowners in our area trust us because we have assisted worried property owners in our state for many years. Our consists of professional foundation repair evaluator. Our team is dedicated to give you a written home inspection and estimate for customers who need foundation repairs.
For our customers who care about the safety and stability of their home, your home's foundation is the most critical part of your home, which means it is important to request a Stabil-Loc trained pro to assess your home's potential foundation damage. You can protect the value and future salability of your home by quickly addressing and repairing any current foundation and basement issues. Our experienced team of foundation and basement contractors is ready to take care of any structural problems beneath your home. Call us today for all your Foundation Repair and Basement Waterproofing needs!
Cracked foundation skirt
Unlevel floors
Repairing foundations
Mold infestation
Basement water intrusion
Crawlspace issues
Sinking foundation walls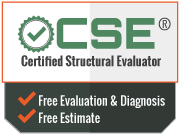 Basement Waterproofing
Controlling Moisture Under Your HomeIf water seeps into you basement during periods of snow or heavy rain, it indicates a problem that should be remedied quickly before it causes even more serious structural damage. Due to the pull of gravity, water will always reach any crack. Moisture will seep into your home through cracks in basement floors and walls, the cove joint or other fissure. Sometimes moisture enters your house through a clogged floor drain or leaky basement window.
Water entering your house will damage your home and belongings, leaving stains on walls, floors and boxes. After a time, the seepage will eventually cause wooden joists and beams to weaken and rot. Such damage to the structural integrity of your home can lower the market value of your home. Moreover, moisture creates the proper conditions for the growth of mold and mildew which can make your family sick.
Common Warning Signs of Waterproofing Issues
Water rings staining foundation walls and basement floors
Stagnant water on basement floors
Scent of musty and moldy odors after precipitation
Puddles of standing water adjacent to your foundation
The presence of mold and mildew
Solutions
For waterproofing problems, we install exterior membranes on the area where you foundation meets the soil, interior drainage systems to handle water beneath your house, and sump pumps to remove water via drainpipe to a distance from your house.
Call us today for all your Foundation Repair and Basement Waterproofing needs!Our team of professionals will consistently provide excellent customer service, prompt communications, and professionally certified foundation repairs. Please call for a free estimate.
We are pleased to guide and support homeowners in our area. So please give us a call immediately for foundation repair assistance today. Our professional team is standing by ready to help with the unique foundation needs of our customers in your local area. We only provide the most professional and courteous foundation repairs.
You can protect and, in most all cases, increase your home's value with a strong, stable and secure foundation. If you have experienced interior cracks forming in sheetrock and around door frames, exterior cracks in foundation blocks or brick walls, windows and doors that stick or become difficult to open and close, uneven floors and noticeable sinking of one or more sides of the home, water stains on basement walls, stagnant puddles of water on the basement floor, or moldy smells which seem to come from your basement or crawlspace , we will get you all fixed up. We are your locally-owned Stabil-Loc licensed structural specialists.
Bowed Walls
Leaning Basement Walls
A curved wall that is leaning into your crawl space is known as a bowed wall. This common structural problem is caused by a buildup in hydrostatic water pressure from the soil surrounding your foundation. Hydrostatic pressure is created when the ground swells after a period of heavy rainfall or excessive snow-melt. The swollen ground exerts pressure against the foundation and will usually cause the wall to bow or lean into the basement space. In many cases, damaged concrete will allow cracks to open on the damaged wall which invariably causes moisture and water to seep through your foundation and into your basement.
Potential Warning Signs of Bowed Walls
Walls bowing or tilting into the basement
Water seeping through the cove joint
Cracks appear on effected walls