Our team is happy to have provided professional foundation and basement repair services for homeowners in our state since we started our business. Our company consists of friendly structural repair evaluator. It is our commitment to give you a written home inspection and estimate for customers who need foundation repairs.
If your home has any common foundation problems, we would like to remind you that, your home's foundation is the most structurally significant part of your home, and so it is absolutely necessary to have a Stabil-Loc trained pro to take a look at any potential foundation problems. Everything we do is licensed, insured and guaranteed, so please let us help you relieve that stress today. We've help countless homeowners over the years. Please contact us right now and we'll schedule a free foundation evaluation at a time of your convenience.
Home foundation issues
Water or humidity in a basement
Floors which slope
Cracks and fissures in foundation skirt
Mold and mildew
Sinking foundation walls
Crawlspace issues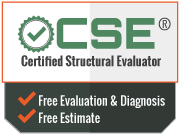 Bowed Walls
Leaning Basement Walls
A curved wall that is leaning into your basement is known as a bowed wall. This common structural problem is is the main symptom of a buildup in hydrostatic water pressure from the ground around your home and foundation. Hydrostatic pressure is created when the ground swells after a period of heavy rainfall or excessive snow-melt. The swollen ground increases pressure against the foundation and will usually cause the wall to bow or lean into the basement space. In many cases, cracks and fissures will appear on the damaged wall which invariably allows moisture to seep inside your basement.
How to Know if You Have Bowed Walls
Walls bowing or tilting into the basement
Water seeping through the cove joint
Cracks appear on effected walls
Bowed Wall Solution
If crackes and fissures have appeared in concrete walls can be sealed and filled using a waterproof epoxy injection.The safety and satisfaction of our customers comes first. All work performed by Authorized Stabil-Loc Dealers is guaranteed, so please call us today and we will schedule a free, no hassle, on-site assessment. A strong, stable and secure structure is vital to maintaining your home's market value. With help from your local Authorized Stabil-Loc Dealer, you can actually increase your home's overall value repairing any issues with the foundation's stability and integrity. Please call us today so that we can help you assess your foundation's problems and provide you prompt repair services.
Our team of professionals are proud to guide and support homeowners in our area. So please call us for foundation repair assistance today. Our professional team is committed to providing repair services for the individual structure stability needs of our valued customers in your local area. We have a long history of provide prompt and professional foundation repairs.
Our certified foundation professionals will help guide you through the process, with clean explanations about your foundation problems and an easy-to-understand plan of action to get your home fixed up. If you are experiencing cracked mortar between bricks on the outside of your house, unsightly cracks on your interior walls, sticky windows, sticky doors, uneven floors, or musty and moldy smells , our licensed contractors are standing by, ready to help. We are your local Stabil-Loc certified & insured repair professionals.
Foundation Repair
Foundation repair services completed by licensed and certified foundation pros.
In the construction industry, there are three primary foundation types: monolithic, block, and poured. Regardless of the foundation type beneath your home, your foundation can experience several types of problems relating to ground settlement, cracked basement walls and floors , and bowed walls. The dedicated professionals of Stabil-Loc can fix any foundation damage. Your foundation is made for providing supporting for the weight of your home above the ground. Any time there is evidence of a foundation shifting or other damage, it could very easily cause a reduction in structural integrity, which will usually lessen the value of your property while potentially leading to less-than-healthy conditions in the interior of your home due to the the presence of mold and mildew.
Foundation Repair: The Warning Signs
Noticeable sinking of one part of the foundation
Separation between the baseboard and floor
Windows and doors that are hard to open
Cracks on interior drywall
Cracked brick
Tilted chimney
Sagging, uneven floors
Contact us today and we will meet you at a time of your convenience to discuss and assess your foundation issues. Anywhere in our community and the surrounding area, we'll be there for you. All work performed by your local Authorized Stabil-Loc Dealer is licensed, insured and guaranteed for your protection and peace of mind. The safety and satisfaction of our customers come first. All our work is guaranteed and our team is licensed and insured.