We earn trust with every job because we've assisted people just like you in our city for many years. Our team consists of highly trained structural repair professionals. No matter the size or scope of the project, we will provide a signed home inspection and estimate for homeowners who need foundation repairs.
When you think about safety and value, your foundation is the most vital part of your home, and so it is critical to have a Stabil-Loc trained pro to take a look at your home's foundation problems. Don't let foundation problems linger. Foundation repair is critically important to the stability and long-term value of your home as well as the health of your family inside your home. No one sets higher expectations than those we place on ourselves. We will always provide professional service and outstanding customer service. Please contact us today and we will schedule a free, on-site assessment at a time of your convenience anywhere in our city and our surrounding service area.
Problems with a home foundation
Sinking foundation
Mildew and mold growth
Basement water intrusion
Cracks in a foundation wall
Unever floors
Problems with a home crawlspace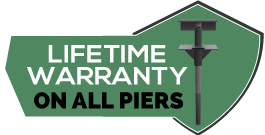 Basement Waterproofing
Controlling Moisture Under Your HomeIf runoff finds a way into your basement during periods of heavy rain or snow-melt, it indicates a problem that should be repaired promptly before it causes potentially more expensive damage. Because water can easily seep downward through rocks and soil, water will always reach any crack. Moisture will seep into your home through cracks, the cove joint, or even over the top of the foundation itself. Sometimes moisture enters your house through a leaky basement window or upward through a clogged floor drain.
Water entering your house will damage everything in its path, leaving stains on walls, floors and anything you may have stored. After a time, the seepage will eventually cause wooden support beams and floor joists to rot and become weak. Such damage to the wooden structure of your home can lower the market value of your home. Moreover, moisture fosters the development of mold and mildew which can make your family sick.
Warning Signs of a Potential Waterproofing Problem
Water stains on walls, floors, the outside of stored boxes
Stagnant or standing water on the basement floor
Sudden growth of mold and mildew
Scent of musty, moldy odors
Solutions
For waterproofing problems, we install exterior membranes on foundation walls outside your home, interior drainage systems to divert water and moisture under your home, and sump pumps to divert water away from your home .
Our professionally-certified and Authorized Stabil-Loc Dealers and repair crews provide prompt, professional repair services and, most importantly, peace of mind for our customers. Contact us today and we will schedule a free, on-site assessment at a time of your convenience anywhere in our city and our surrounding service area. Don't let the stress of a lingering foundation or basement repair issues bother you any longer. The safety and satisfaction of our customers come first. All our work is guaranteed and our team is licensed and insured. Please contact us today for your free no-stress, no-obligation foundation assessment and repair estimate.
Our team of professionals are pleased to guide and support our valued customers in our area. So please call us for foundation repair assistance today. The friendly foundation professionals of Stabil-Loc are standing by ready to help with the individual foundation needs of our valued customers in your local area. We bring years of experience to every project as we provide the most professional and courteous foundation repairs.
We look forward with great enthusiasm to repairing your foundation to its original integrity with prompt work, a fair price, and a best-in-the-industry guarantee. If your home and foundation have noticed noticeably uneven floors, visible water stains on basement walls, moldy odors, termites or other pests in your home's crawlspace, cracks on interior sheetrock, stagnant water on the basement floor, or tilting crawl space supports , we have the tools, knowledge and experience to fix your home. We are your local Stabil-Loc licensed structural professionals.
Leaky Crawlspaces
Repair services for leaky and moldy crawl spaces
Any home constructed without a basement will instead have a crawl space. If a crawlspace is not sealed off from the weather and environment outside, or if the home lacks a proper drainage system, moisture and humidity can cause many problems for the stability of the foundation. In many cases, the crawlspace will experience excess water collecting during times of significant rain or snow-melt. Wooden supports and floor joists can experience rot and rotten wood is attractive to pests which can damage your home. Perhaps most worryingly, excess moisture can lead to the spread of mold and mildew which is widely known to cause serious health problems including eye and skin irritation, headaches, asthma and fatigue.
Potential Warning Signs of Various Crawlspace Problems
Your cinder block footing beneath your home is cracked or sinking
Unwanted pests including roaches and termites can be seen entering and exiting the crawl space
Rotting wood structure
Your home smells musty, particularly after rain
Floors are uneven or feel as if one side is sinking
Water is visible next to the foundation footing or beneath the home itself
Solutions for Water Seepage in Crawlspaces
Our multi-faceted approach to damp foundations below the structure of your home includes exterior drain tiles, dehumidifiers for humidity, as well as jacks or piers to support the structure of home.
The last thing you should do as a homeowner is ignore the warning signs of ongoing foundation and basement problems. You can protect the value and future salability of your home by quickly addressing and repairing any current foundation and basement issues. Our friendly and helpful team of experts can help you reduce the stress and anxiety of ongoing foundation problems with prompt, professional estimates and repair services. Call us today to schedule an appointment. For your safety and peace of mind, everything our Authorized Stabil-Loc Dealers do is licensed, insured and guaranteed.