Do not let the stress of foundation problems get you down. Your friends at Stabil-Loc have assisted people just like you in our region for many years. Our crew consists of experienced home repair evaluator. No matter the size or scope of the project, we will give you a no-obligation evaluation and written repair estimate for who need assistance.
For our customers who care about the safety and stability of their home, your home's foundation is the most structurally significant part of your home, thus it is absolutely necessary to ask a dedicated and friendly foundation professional to assess your home's potential foundation problems. Our service area includes our area and beyond. You'd be hard-pressed to find a more professional and reputable foundation repair company in our city. If you see cracks in your walls or foundation or notice uneven floors, call our local or toll-free number to setup an on-site assessment and free repair estimate.
Cracks and fissures in foundation skirt
Unever floors
Problems with a home foundation
Mildew and mold growth
Basement water intrusion
Problems with a home crawlspace
Sinking bricks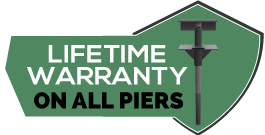 Removing Water with a Sump Pump
Sump pumps are a quick and easy product to keep your basement or crawl space moisture-free. This item is used to collect water from exterior or interior drain channels and is then filtered to a basin. Once the water collects to a given volume, the water will be forced out and diverted away from the home. Different sizes and capacities are for sale, and the size required will depend on the size of the basement or crawl space. The larger the basement, the greater the opportunity for excess water to collect. The sump pumps are powered by electricity, but we can install battery backups in the event of a power outage.
We've help countless homeowners over the years. Our professionally-certified repair crews excel at providing prompt, professional repair service and peace of mind for our customers. Please call today for a free assessment and estimate.
Our dedicated pros are happy to guide and support our friends in our area. So please reach out for foundation repair help today. Your local Stabil-Loc Contractor is standing by ready to help with the individual foundation repair needs of our valued customers in your local area. We are the best choice to provide prompt and professional foundation repairs.
With help from your local Authorized Stabil-Loc Dealer, you can actually increase your home's overall value repairing any issues with the foundation's stability and integrity. If you have seen cracked bricks outside your home, visible cracks on the interior drywall, sticky windows and doors which are difficult to open or close, problems with baseboard and floor separation, sagging or uneven floors especially on the first floor, or musty and moldy smells after periods of precipitation , our dedicated staff will do everything in their power to assist you. We are your local Stabil-Loc certified & insured foundation specialists.
Bowed Basement Wall Repair
Leaning Basement Walls
A curved wall that is leaning into your crawl space is known as a bowed wall. This surprisingly common basement concrete problem is a result of a buildup in hydrostatic water pressure from the soil in your yard pressing against your foundation. Excessive water pressure is created when the ground swells after a period of heavy rainfall or excessive snow-melt. The swollen ground creates pressure against the foundation and will cause it to lean or bow into the basement space. In many cases, cracks and fissures will appear on the damaged wall which will give water runoff a way to enter into the basement of your home.
Potential Warning Signs of Bowed Walls
Walls are bowing or tilting into the basement
Cracks appear on effected walls
Water seeping through the cove joint in the damaged area