The friendly foundation professionals of Stabil-Loc have fixed foundation problems for people just like you in our region for many years. Our organization consists of experienced structural repair evaluator. We are happy to give you a prompt home inspection and estimate for our customers who need help.
When it comes to stability, your foundation is the most structurally significant part of your home, and it is necessary to have a dedicated and friendly foundation professional to evaluate any foundation damage. With help from your local Authorized Stabil-Loc Dealer, you can actually increase your home's overall value repairing any issues with the foundation's stability and integrity. We will treat your home with respect and work on your foundation as if we were fixing our own home. If you see cracks in your walls or foundation or notice uneven floors, call our local or toll-free number to setup an on-site assessment and free repair estimate.
Sinking foundation
Foundation Repair
Basement Waterproofing
Floors which are uneven
Cracks in a foundation wall
Mold infestation
Crawlspace issues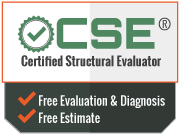 Crawl Space Dehumidifiers
Mold and mildew thrive in damp, dark environments. Conversely, lower humidity levels means there are lower chances for mold or mildew to develop. The fungus is widely known to cause any number of health problems including respiratory problems, flu-like symptoms, and skin rashes. Control moisture levels in your crawl space with a dehumidifier system. A dry crawl space is a healthy crawl space. A dehumidifier is a simple solution for removing wetness from under your home. The device extracts excessive humidity from the air under your house. Lower humidity levels mean there is a lesser chance of mold or mildew developing. Mold and mildew taken together are the number one cause of air pollution inside your home and have been linked to significant health-related issues.
Call us today for all your Foundation Repair and Basement Waterproofing needs!
The Stabil-Loc team are happy to guide and support our valued customers in our area. So please contact us for foundation repair pros today. We earn trust with every job because we're standing by ready to help with the one-of-a-kind structural needs of our valued customers in your local area. We have a long history of provide the most professional and courteous foundation repairs.
Whatever you home needs, our licensed and certified professionals can handle any size job. If your home and foundation have noticed noticeably uneven floors, visible water stains on basement walls, moldy odors, termites or other pests in your home's crawlspace, cracks on interior sheetrock, stagnant water on the basement floor, or tilting crawl space supports , Stabil-loc contractors are available to repair your home. We are your locally-owned Stabil-Loc certified & insured repair pros.
Foundation Repair
Foundation repair services performed by licensed and certified foundation experts.
In the construction industry, there are three main types of foundation: poured, block, and monolithic. Regardless of the foundation type beneath your home, your foundation can experience many types of problems relating to ground settlement, cracked basement walls and floors , and bowed walls. Your local Stabil-Loc Contractor can repair any type of foundation damage. Your foundation is constructed for supporting the weight of the home above the ground. In any instance where there might be a foundation repair problem, it could very easily cause a failure of structural integrity, which could reduce the overall value of your house while also creating unhealthy living conditions for your family inside the house with the presence of mold and mildew.
Foundation Repair: The Warning Signs
Noticeable sinking of one part of the foundation
Separation between the baseboard and floor
Windows and doors that are hard to open
Cracks on interior drywall
Cracked brick
Tilted chimney
Sagging, uneven floors
A free, no-obligation structural assessment and repair estimate is yours at no charge, so please call us to schedule an appointment. Your satisfaction is our #1 goal. Call us today for all your Foundation Repair and Basement Waterproofing needs!