We earn trust with every job because we've fixed foundation problems for people just like you in our area since we opened our doors. Our crew consists of dedicated home repair pros. We are happy to provide our valuable customers with a no-obligation assessment and repair estimate for customers who need assistance.
When you think about safety and value, your home's foundation is the most critical part of your home, and so it is vital to have a dedicated and friendly foundation professional to any foundation problems. Everything we do is licensed, insured and guaranteed. A significant portion of your home's value is related to the stability and integrity of your home's overall structure. A Certified Structural Assessment and Repair Estimate is available today, so call us to schedule an appointment.
Sinking foundation walls
Repairing foundations
Basement water intrusion
Unlevel floors
Cracked foundation skirt
Mildew and mold growth
Problems with a home crawlspace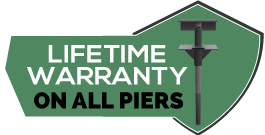 Sump Pumps to Remove Basement Water
Sump pumps are a common and reliable way to keep your basement or crawl space moisture-free. This handy product collects water from exterior or interior drain channels which is then filtered to a basin. Once the water collects to a specified amount, the contents of the basic will be pumped out of the basic and away from the home. There are different capacities available, and the size you need will depend on the size of the basement or crawl space. The larger the space, the greater the opportunity for moisture to collect. The sump pumps are powered by electricity, but we can install battery backups in the event of a power outage.
We've help countless homeowners over the years. Our professionally-certified repair crews excel at providing prompt, professional repair service and peace of mind for our customers. Please call today for a free assessment and estimate.
We are happy to guide and support homeowners in our area. So please give us a call immediately for foundation repair assistance today. The friendly foundation professionals of Stabil-Loc are committed to providing repair services for the individual structural needs of our valued customers in your local area. We only provide professionally-licensed and guaranteed foundation repairs.
Everything we do, from beginning to end, is licensed, insured and guaranteed. If you are suffering uneven floors on the first floor of your home, water stains on basement walls or stored boxes, musty and moldy odors, termites or other pests in the crawlspace below your home, standing water around the exterior of your foundation, cracks on walls inside of the home, puddles of water on the basement floor, water stains on basement walls, windows and doors are difficult to open or close, or tilting crawl space supports , we will get you all fixed up. We are your locally-owned Stabil-Loc authorized foundation professionals.
How Can I Estimate My Foundation Repair Cost?
There are several variables that affect the cost of a foundation repair project in your area, including what repairs should be done, the best method for completing the task, the requred materials for the job, while also considering the length of time we will be on the job site. Regardless of the final estimate, it is critical that you hire a professional foundation repair firm due to the great importance of your foundation and how it affects the value and stability of your family's home.
Typical Repair Costs for Basic Foundation Repair Work
In our extensive background in the industry, we have found that foundation repair projects in your area costs in the range of $4,000 up to $8,000. Of course, every project is different and thus some projects will cost below $2,000 and others may be upwards of $15,000 or more.
The square footage of a family home is one of the major facets impacting the cost of repairing any damage to your foundation. As you could probably guess, the larger a house is, the more material might be needed to complete the foundation repairs when compared to similar damage to a smaller family home. The underlying structure of a sizable house can also be more complicated (more supports, beams, piers, pylons, and even sometimes additional interior walls) which means there could be more parts of the foundation which need attention.
Beyond the scope and the size of a home, the other germaine aspect to estimating a foundation repair job is, typically, the type of damage which needs our attention. Many homeowners wisely elect to have preventative work done prior to major foundation damage, as opposed to waiting for something bad to take place and then repair the damage. In almost all cases, preventative work will be cheaper than jobs requiring extensive damage mitigation. In all cases, however, you can be sure that ignoring a problem with your foundation will only allow the issues to grow worse as time passes, thereby multiplying the repair cost.
Before You Do Anything Else, Get the Information You Need
At the first sign of issues with your foundation, we highly recommend that you call your local Authorized Stabil-Loc Contractor and schedule a free assessment of your foundation. They will set a time to meet you at any time convenient for your scheudule and will give you with a prompt, no-obligation estimate for any recommended repair work. Whether or not you have the work done on your foundation is up to you. But in the meantime you will have the cost estimate and foundation assessment you need to make an informed decision.
Foundation problems can be very stressful. We completely understand that this is a new subject you may not know much about. The cost of repairing a foundation may be substantial, but for the vast majority of homeowners, their house is the single largest investment they will make in their lives. Finding a reputable firm to fix your foundation properly not only insures the structural integrity of your home, for years into the future. Therefore, if you have seen any signs of on-going foundation problems (cracked exterior blocks, basement leaks, sticky doors and windows) we encourage you to pick up your phone and give your local Stabil-Loc Contractor a call straight away for a free, no-obligation assessment and repair estimate.