Foundation problems can be stressful. But your local Stabil-Loc contractor has come to the aid of homeowners just like you in our state since we opened our doors. Our company consists of dedicated home repair experts. We are happy to give homeowners a free, no-stress home assessment and quote for who need help.
If you are concerned about safety and stability, you should know that, your foundation is the most vital part of your home, which means it is critical to have a knowledgeable foundation expert to evaluate your home's potential foundation issues. Our work is guaranteed and our staff is licensed and insured. We've help countless homeowners over the years and we look forward with great enthusiasm to helping you. Call your Authorized Stabil-Loc Dealer right away. Our certified structral evaluator will provide you with a prompt assessment of your foundation's issues as well as a written repair estimate.
Foundation Repair
Leaking basements
Sloping floors
Cracks in a foundation wall
Mold and mildew
Sinking bricks
Crawlspace issues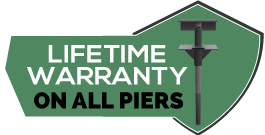 Sump Pumps: Best Way for Removing Water
Sump pumps are a great way to keep your basement or crawl space moisture-free. This handy product is used to collect water from exterior and interior drain channels which is then filtered to a basin. Once the water reaches a specified amount, it will be pumped out of the basic and diverted away from the home. There are different capacities available, and the size you need will depend on the size of the basement or crawl space. The larger the home, the greater the opportunity for moisture to collect. The sump pumps are powered by electricity, but we also install battery backups in the event of a power outage.
Our local contractors are proud to guide and support our friends in our area. So please contact us for foundation repair assistance today. Our professional team is dedicated to serving the singular structural needs of our customers in your local area. We are the highest rated company to provide the most professional and courteous foundation repairs.
A significant portion of your home's value is related to the stability and integrity of your home's overall structure. If you have seen cracked bricks outside your home, visible cracks on the interior drywall, sticky windows and doors which are difficult to open or close, problems with baseboard and floor separation, sagging or uneven floors especially on the first floor, or musty and moldy smells after periods of precipitation , we will get you all fixed up. We are your local Stabil-Loc licensed repair pros.
Some Homes in Your Area Have Mold
Waterproof Your Basement: Health Problems Associated with Mold 
Moisture can result in the growth of the growth of mold and mildew in any area of the home. Moisture problem or leakage of water are some common causes for the growth of mold and mildew in the basement or crawl space. It is of significant importance for you to be aware and look for signs of the growth of mold and mildew in any area of your home, especially considering that it can give rise to a a long list of health problems for homeowners and their families.
Allergies
Allergic reactions can be caused by mold spores as well as black mold. Those with a sensitive or compromised immune system will in most cases experience suffering from these allergies surpringly quickly after the first exposure. The level of severity of the allergic reaction is nearly always proportional to the severity of the black mold growth and level of exposure. Common allergy symptoms include red eyes, headaches, hives on skin, development of rashes, cough, irregularity in blood pressure, concentration problems, lethargy, memory loss and nausea. Even despite an apparent allergic reaction, in most cases, there is production of toxins in the body called mycotoxin, which may lead to nasal, skin or ocular irritation.
Respiratory Infections
Those suffering from ongoing lung issues can suffer from acute respiratory infections as a result of even short term exposure to black mold spores. Due to the toxic odor, it's quite common that people can also begin to experience acute reactions , for example, respiratory issues and fever. Some of the common respiratory problems include asthma, uneasiness in respiration and even bleeding in lungs.
Pain and Urological Issues
In cases of long-term or severe exposure to molds, some people also suffer pain as well as functionality issues related to their disgestive systems and urological areas. In many area homes, patients tell doctors of several issues such as digestion problems, problems in urination, pain in internal organs such as liver, urinary tract infections and more.
Eye Problems
There are various typical problems of the eye that are caused by allergic reaction resulting from exposure to poisonous black mold. Inflammation, redness, itchiness and irritation in and around the eyes are the most common symptoms of an allergic reaction due to contact with mold. It is wise to ask your family physician about mold reactions. Over-the-counter eye drops, common cold compresses and antihistamines can provide relief from these unfortunate and painful symptoms.
Lung problems
Exposure to a moldy environment can give rise to a large number of lung problems such as Hypersensitivity Pneumonitis, Aspergillosis and Lung Fibrosis. Family members affected with such medical problems can experience tightness in chest and lungs, mild-to-severe chest pain, and an increased amount of phlegm. The immune system begins to produce larger amounts of mucus in order to restrain the inhalation of mold spores into your chest, and expel them out of the lungs through phlegm.
Taking care of a mold problem in your house is vital for your family's health. If you or someone in your neighborhood or family needs help with a potential mold problem, or if your home is in need of attention from our team of foundation repair specialists, please call us right away!