Foundation and basement issues are stressful. But Stabil-Loc has provided professional foundation and basement repair services for people just like you in our region since we started our business. Our company consists of experienced building repair evaluator. It is our commitment to give homeowners a written foundation evaluation and repair quote for customers who need assistance.
If you are concerned about safety and stability, you should know that, your foundation is the most vital part of your home, and it is vital to schedule a dedicated and friendly foundation professional to inspect any foundation issues. Everything we do, from beginning to end, is licensed, insured and guaranteed. Don't let the stress of a lingering foundation or basement repair issues bother you any longer. Contact your local Authorized Stabil-Loc Dealer right away to schedule a free, no-pressure, no-obligation repair estimate.
Unever floors
Foundation cracks
Mold and mildew
Repairing foundations
Water or humidity in a basement
Sinking foundation walls
Problems with a home crawlspace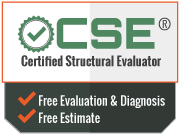 How an Interior Drain System Alleviates Basement Flooding
An interior drain in the basement of your home will collect excess moisture from your basement walls and floors. Once diverted into the drain channel, it will be diverted into a sump pump. Once the water collects to a given volume, the contents of the basic will be forced out and diverted away from the home. Interior drains are the solution we recommend when there are floor drains that are blocked and cannot pass water, or when there is moisture getting in through windows, the cove joint , or through cracks in the foundation wall.
Don't let the stress of a lingering foundation repair problem both you any longer. Call either of our numbers (local or toll-free) to schedule a free on-site assessment and repair estimate.
Our dedicated pros are happy to help our friends in our area. So please reach out for foundation repair professionals today. Our professional team is an industry-leading firm dedicated to providing services which meet the one-of-a-kind structural needs of our customers in your local area. We have been chosen by many of your neighbors to provide professionally-licensed and guaranteed foundation repairs.
All of our work is licensed, insured and guaranteed for your peace of mind. If your basement and foundation are experiencing puddles of water on the basement floor, water stains on walls and floors, water damage on the outside of stored boxes, the presence of mold and mildew, musty and moldy odors, or water standing next to your foundation , our licensed contractors are standing by, ready to help. We are your locally-owned Stabil-Loc certified & insured foundation specialists.
Foundation Repair
Foundation repair services executed by dedicated and licensed foundation authorities.
When it comes to home construction, there are three primary foundation types: block, poured, and monolithic. Regardless of the type of foundation your home has, your foundation can experience several types of problems relating to cracked basement walls, cracked basement floors, ground settlement and bowed walls. Your local Stabil-Loc Contractor can fix any foundation damage. Your home's foundation is solely responsible for providing stability and supporting the weight of your house stabilizing your home above the ground. Any time there might be a foundation repair problem, it could very easily cause a more serious problem with regard to structural integrity, which might lessen the value of your property while also leading to a less-than-healthy environment in the interior of your home due to the the presence of mold and mildew.
Foundation Repair: The Warning Signs
Sticky windows and doors
Separation between the baseboard and floor
Sagging, uneven floors
Cracks in exterior bricks
Tilted chimney
Cracks on interior drywall
Noticeable sinking of one or more sides of the home
Whatever you home needs, our licensed and certified professionals can handle any size job. Your local Stabil-Loc Authorized repair crew will treat your home with respect and complete all work on your foundation with care, as if we were fixing our own home. All of our work is licensed, insured and guaranteed for your peace of mind. Please call us today. A strong, stable and secure structure is vital to maintaining your home's market value. As a responsible homeowner, we encourage you not allow foundation problems to linger. It is our sincere hope you will call us today so that we can help you assess your foundation's problems and provide you with a prompt repair estimate.