The friendly foundation professionals of Stabil-Loc have provided professional foundation and basement repair services for homeowners in our city for a long time. Our consists of highly trained foundation and basement repair pros. No matter the size or scope of the project, we will provide our valuable customers with a free, no-stress evaluation and written repair estimate for customers who need help.
If your home has any common foundation problems, we would like to remind you that, your home's foundation is the most important part of your home, and it is vital to ask a Stabil-Loc trained pro to evaluate any potential foundation issues. You'd be hard-pressed to find a more professional and reputable foundation repair company in our area. But our certified foundation professionals will help guide you through the process, with clean explanations about your foundation problems and an easy-to-understand plan of action to get your home fixed up. Call us right away to schedule a free, no-obligation structural evaluation and repair estimate from your local Authorized Stabil-Loc Dealer.
Foundation brick cracks
Mold infestation
Sinking foundation walls
Repairing foundations
Basement Waterproofing
Floors which slope
Problems with a home crawlspace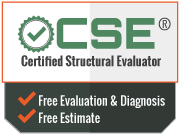 Crawl Space Repair
Repair for leaky and moldy crawl spaces
Homes constructed without a basement likely has a crawlspace beneath it. If a crawlspace is not sealed off from the outside elements, or if the home lacks a proper drainage system, moisture and humidity can cause many problems for the stability of your home and foundation. In many cases, the crawlspace will flood during times of heavy rains or snow melts. Wooden supports and floor joists can experience weakness and rot and rotten wood is favored by numerous pests. Perhaps most worryingly, excess moisture can lead to the growth of molds which is widely known to cause serious health problems including skin irritation, asthma, eye irritation, fatigue, and headaches .
Potential Crawlspace Problems: The Warning Signs
Your home smells musty, particularly after rain
Floors are uneven or feel as if one side is sinking
Water is visible next to the foundation footing or beneath the home itself
The cinder block footing is cracked or sinking
Unwanted pests can be seen in the crawl space
Rotting wood structure
Damp Crawlspace Solutions
Our multi-faceted approach to damp foundations below the structure of your home includes exterior drain tiles, dehumidifiers for humidity, as well as jacks or piers to support the structure of home.
As homeowner ourselves, we encourage you not allow foundation problems to linger. A strong, stable and secure structure is vital to maintaining your home's market value. With help from your local Authorized Stabil-Loc Dealer, you can actually increase your home's overall value repairing any issues with the foundation's stability and integrity. Please call us today so that we can help you assess your foundation's problems and provide you prompt repair services. A Certified Structural Assessment and Repair Estimate is available today, so call us to schedule an appointment.
We are proud to provide foundation repair services to our friends in our area. So please contact us for foundation repair assistance today. Our professional team is an industry-leading firm dedicated to providing services which meet the one-of-a-kind foundation repair needs of our customers in your local area. We only provide certified and insured foundation repairs.
We look forward with great enthusiasm to repairing your foundation to its original integrity with prompt work, a fair price, and a best-in-the-industry guarantee. If your basement and foundation are suffering puddles of water on the basement floor, water stains on walls and floors, water damage on the outside of stored boxes, the presence of mold and mildew, musty and moldy odors, or water standing next to your foundation , Stabil-loc contractors are available to repair your home. We are your locally-owned Stabil-Loc licensed structural specialists.
Basement Walls Which Are Bowed
Leaning Basement Walls
A curved wall that is leaning into your crawl space is known as a bowed wall. This relatively common basement problem is caused by hydrostatic pressure emanating from the soil ground in your yard pressing against your foundation. Hydrostatic pressure is created when the ground swells after a period of heavy rainfall or excessive snow-melt. The swollen ground increases pressure against the foundation and will cause it to lean or bow into the basement space. In many cases, cracks and fissures will appear on the damaged wall which invariably causes moisture and water to seep through your foundation and into your basement.
Warning Signs of Bowed Walls
Walls are bowing or tilting into the basement
Cracks appear on effected walls
Water seeping through the cove joint in the damaged area